9TH MEGSA RESEARCH SYMPOSIUM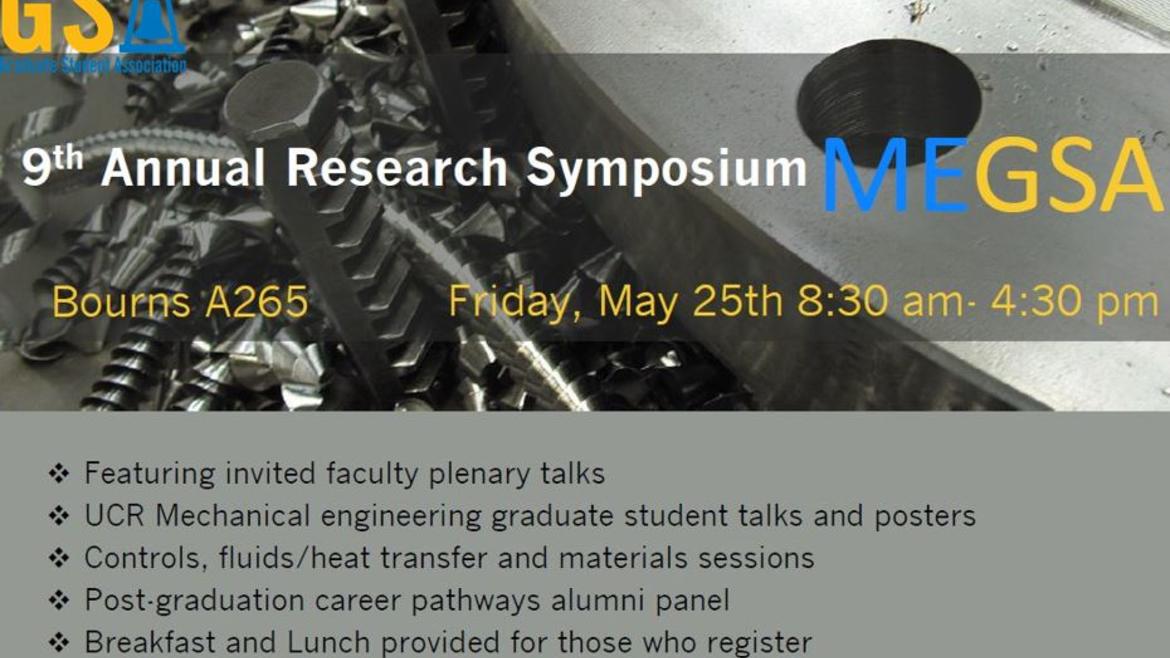 -
The Mechanical Engineering Graduate Student Association (MEGSA) is proud to officially announce that the 9th Annual MEGSA Symposium will be held on May 25th, 2018, and is an all-day event. We encourage you to apply to present a 20-minute talk, poster, and/or demo of your research! 
This year we are holding three sessions: fluids and heat transfer, materials, and controls. We have the great pleasure to offer conference travel awards for the best presentation per session. Importantly, we are also offering poster printing on a first come, first serve basis.
Students are encouraged to apply for the poster session because we will print the posters as soon as the applications are approved. The posters may be used for other conferences immediately. More information about the symposium can be found on the Symposium Website.  If you have additional questions or would like to submit your poster for printing, please contact the organizers Carys Layton (clayt001@ucr.edu) or Gianluca Bianchin (gianluca@engr.ucr.edu).

Graduate Student Presentation Registration:
https://goo.gl/forms/RMxIa8BwMFTL9sLk1
Graduate Student Poster Registration:
https://goo.gl/forms/tOLchxO2hpHbNkB13
General Attendant Registration:
Sponsor
Mechanical Engineering
Target Audience
Students, Faculty
Registration Required
Yes